About Our Program
The Pediatrics Residency Program at the University of Illinois College of Medicine Peoria is located at Children's Hospital of Illinois, the third-largest children's hospital in Illinois – a full-service pediatric hospital on the OSF Saint Francis Medical Center campus with more than 115 pediatric specialists representing more than 40 pediatric subspecialities.
Our three-year program accepts up to 12 residents each year. Here you will find cutting-edge technology, an expert faculty, a diverse patient mix, strong resident camaraderie and a family-friendly environment.
Our program has a long-standing tradition of excellence in pediatric education since 1958. The training you receive will prepare you for a future in both primary care Pediatrics and Subspecialty training. Our faculty is strongly committed to providing an outstanding educational experience, and our program size fosters a collegial and family-friendly atmosphere.

Residency Program Director

|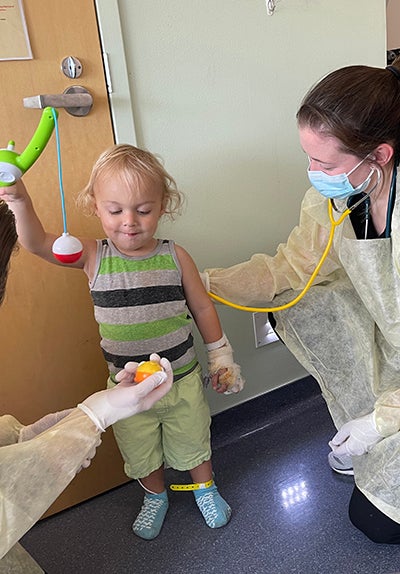 The vision of the Pediatric Residency Program at the Children's Hospital of Illinois/University of Illinois College of Medicine Peoria is to train compassionate pediatricians who deliver excellent care as effective members of their healthcare system and community dedicated to the health and well-being of all children.
Our mission is to create systems-thinking pediatricians equipped for success in their chosen career paths by
providing a diverse, inclusive, and personalized training experience,
fostering wellness, resiliency, and growth,
developing skills in delivering thoughtful, family-centered, team-based clinical care to children, and
promoting experiences in innovation in clinical care and research with the goal of improving the well-being of children and their families.
Program Aims
To provide breadth and depth of clinical experiences in caring for widely diverse patient populations and pathology while identifying and addressing unmet social needs that negatively contribute to the health of children, particularly those of color living in urban and rural communities.
To immerse trainees in our community by partnering with others in community health and advocacy projects while being informed about social determinants of health, and committing to addressing disparities by providing and promoting equitable healthcare and access.
To cultivate a training and work environment that promotes resiliency, wellness, and a growth mindset in our physician trainees and faculty through multiple curricula and wellness experiences provided by certified teachers.
To provide unparalleled access and exposure to simulation, procedural skills, and healthcare innovation through the JUMP Center, nationally recognized for cutting edge work in healthcare systems' science innovation, while providing abundant opportunities in mentoring trainee research work and curricula resulting in publications and local, regional, national, and international recognition.
To deliver health systems science education by providing curricula in Quality Improvement and Patient Safety, Interprofessional Team Care, High Value Care and Communication Skills Training curriculum, while providing partnership and leadership opportunities in Quality improvement initiatives and enabling translation of these skills into healthcare delivery for our current and future patients.
Our program accepts up to 12 residents each year. We accept applications through ERAS only.
Interviews will be conducted virtually starting in October.
Tammy Livingston
Residency Program Coordinator
Kelsie Webb
Office Support Specialist