Cancer Biology and Pharmacology (CBP) is the primary basic and translational research department on campus. Our faculty conduct research on cancer biology, neuroscience, and ion channel biology that is at the interface of cancer biology and neuroscience. In addition to research, equally central to the Department's mission is its direct contribution to medical education, and research training of medical fellows and postdoctoral research scientists.
Ongoing research is focused on brain, breast and prostate cancer; neuro-inflammatory and neurodegenerative diseases; stroke and spinal cord injury. The highly collaborative culture that characterizes the Department is conducive to development of intellectually synergistic interdisciplinary translational research that is innovative and clinically significant. We foster and facilitate collaborations not only among faculty within the Department, but also across departments and campuses in our medical school, the University of Illinois Cancer Center, our partner hospitals – OSF and Carle Health, the Illinois Neurological Institute, and Jump Trading Simulation and Education Center.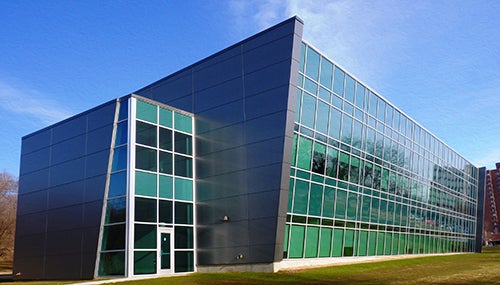 Located in the medical district of downtown Peoria, the University of Illinois College of Medicine Peoria (UICOMP) is one of three campuses that make up the largest public medical school in the U.S. We are home to a supportive and collaborative basic science research department with federally funded faculty members working in areas related to various human disorders, including cancer biology, neuroscience, pharmacology, and systems biology.
Laboratory Space
The College of Medicine in Peoria has ample laboratory space, including 25,000 square feet of office and laboratory bays located in the Cancer Research Center. This new research wing was completed in December of 2011 as part of a $13 million addition and renovation project as a result of public and private support to the University.
Hospital Affiliated Partners
The College of Medicine has access to more than 900 patient beds and a patient base population of more than 2 million with UICOMP's two hospital system affiliates, OSF Health Care and UnityPoint Health Methodist-Proctor. This includes a Level I Trauma Center, the only full service tertiary children's hospital in downstate Illinois, the Susan G. Komen Breast Center, the Midwest affiliate of the St. Jude Children's Research Hospital, and the Illinois Neurological Institute, a leading neuroscience center and stroke network.
Simulation Education and Research​
A newer collaboration of the University of Illinois College of Medicine at Peoria and OSF HealthCare is Jump Simulation. Jump is a virtual medical training center combining actual medical equipment and the latest simulation technology for better education, performance training and research. Jump is a training- and testing-ground for medical innovations and research. Its mission is to improve patient health outcomes and lower health care costs.
The Department of Cancer Biology and Pharmacology oversees several research labs. Students have the opportunity to participate in projects that impact how patient populations are treated for a variety of conditions.