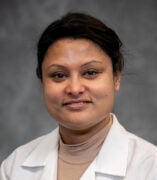 Swapna Asuthkar, PhD
Assistant Professor
Cancer Biology and Pharmacology
Contact
Address:
1 Illini Drive, Peoria, IL, 61605
Office Phone:
Email:
Related Sites:
About
Research Support
National Science Foundation
University of Illinois College of Medicine Peoria
William E. McElroy Charitable Foundation
Special Competencies and Interests
Cell biology: Cell lines/primary cell culture, cell growth curve, angiogenesis in vitro/in vivo, cell adhesion and chemotactic migration assay, cell apoptosis and differentiation assays, immunofluorescent double/triple staining, cell sorting by FACS, transfection, cancer stem cells, protein extraction and purification.
Immuno-biology: role of Immune checkpoints the tumor-microenvironment, Enzyme linked immunosorbent assay (ELISA), ELISPOT, microscopic agglutination test (MAT), serotyping, immunochemical analysis of human serum and its fractions, immunoprecipitation, immunoelectrophoresis, immunocytochemistry, immunohistochemistry, flow cytometry, LC/MS/MS analysis.
Microbiolgy: aseptic and sterile techniques, bacterial staining, plating methods (streak, spread, pour, replica), cell transformation, enumeration and identification of bacteria, use of biological safety cabinets, media and buffer preparation, plaque assay.
Epigenetics: CpG island analysis, bisulphite modification and sequencing, MSP and USP analysis, Histone modifiers; methylases and acetylases.
Tumor biology: Animal models (intracranial, subcutaneous and tail vein injections), tumorigenicity, live cell imaging, animal dissection, chemo and radiotherapy, cell proliferation (clonogenic, FACS and MTT assay), apoptosis (TUNEL, apoptotic DNA fragmentation analysis and mitochondrial apoptosis detection), tumor cell adhesion, invasion, migration, angiogenesis wound repair and metastasis, Multidrug Resistance Direct Dye Efflux Assays, CSC sphere formation, Chemotaxis.
Microscopy: Light microscopy, fluorescent; confocal microscopy, transmission electron microscopy.
Protein/Molecular biology: Data mining. RNA seq analysis, DNA recombination, plasmid/retroviral plasmid construction, sub-cloning, sequencing, stable/transient transfections, site-directed mutagenesis, siRNA, PCR, RT-PCR, ChIP, in situ hybridization, DNA and RNA isolation, Southern and Northern blotting, EMSA, DNA and protein arrays, transcription factor (TF) binding site prediction, TF-TF/TF-DNA interactions, sub cellular fractionation, culture filtrate fractionation, fibrin and gelatin zymography, ubiquitination, LC/MS/MS analysis.
miRNA methods: miRNAs and antago-miRNAs, expression profiling, quantification and target identification, 3' UTR reporter assay, stem-loop PCR.
Exosome research: Exosome isolations, quantification and analysis.
Pathology: Histological and pathological diagnosis, techniques for sample/section preparation and H&E staining, immunohistological double/triple staining.
Biophysics: Calcium Imaging, planar lipid-bilayers.
Selected Publications
Guda MR, Tsung AJ, Asuthkar S, Velpula KK. Galectin-1 activates carbonic anhydrase IX and modulates glioma metabolism. Cell Death Dis. 2022 Jun 30;13(6):574.
Katherine Shishido, Alexis Reinders, and Asuthkar S*. Epigenetic regulation of radioresistance: insights from preclinical and clinical studies. Expert Opin Investig Drugs 2022 Dec 25;1-17.
Asuthkar S,* Sujatha Venkataraman, Janardhan Avilala, Katherine Shishido, Rajeev Vibhakar, Bethany Veo, Ian J. Purvis, Maheedhara R. Guda 1 and Kiran K. Velpula. SMYD3 Promotes Cell Cycle Progression by Inducing CyclinD3 Transcription and Stabilizing the Cyclin D1 Protein in Medulloblastoma. Cancers 2022 Mar 25;14(7):1673.
John L Caniglia, Anvesh Jalasutram, Asuthkar S, Joseph Sahagun, Simon Park, Aditya Ravindra, Andrew J Tsung, Maheedhara R Guda, Kiran K Velpula. Beyond glucose: alternative sources of energy in glioblastoma. Theranostics. 2021 Jan 1;11(5):2048-2057.
Purvis IJ, Avilala J, Nguyen D, Tsung AJ, Velpula KK, Asuthkar S*. B7-H3 in medulloblastoma-derived exosomes; a novel tumorigenic role. Int. J. Mol. Sci. 2020, 21(19), 7050.
Purvis IJ, Avilala J, Guda MR, Venkataraman S, Vibhakar R, Alexandrov I, Tsung AJ, Velpula KK, Asuthkar S*. Role of MYC-miR-29-B7-H3 in medulloblastoma growth and angiogenesis. J Clin Med. 2019 Aug; 8(8): 1158.
Asuthkar S*, Kiran Kumar Velpula, Pia A. Elustondo, Lusine Demirkhanyan, and Zakharian Eleonora. TRPM8 channel as a novel molecular target in androgen-regulated prostate cancer cells. Oncotarget. 2015 Jul 10; 6(19):17221-36.
Asuthkar S, Elustondo, P, Demirkhanyan, L, Baskaran, P, Kiran Kumar Velpula, Thyagarajan, B, Pavlov, E, and Zakharian, E. The TRPM8 protein is testosterone Receptor. Part I. Biochemical evidence for direct TRPM8-testosterone interactions. J Biol Chem. 2015. Jan 30; 290(5):2659-69.
Asuthkar S, Demirkhanyan, L, Elustondo, P, Sun, X, Krishnan V, Baskaran, P, Kiran Kumar Velpula, Thyagarajan, B, Pavlov, E, and Zakharian, E. 2015. The TRPM8 protein is testosterone Receptor. Part II. Functional evidence for an ionotrophic effect of testosterone on TRPM8. J Biol Chem. Jan 30; 290(5):2670-88.
Asuthkar S*, Velpula, KK., Gondi, CS., Nalla, AK., Gogineni VR., Rao, JS. MMP-9 mediates Syndecan-1 shedding and angiogenesis via epigenetic silencing of miR-494 in medulloblastoma cells. Oncogene. 2014. Apr 10; 33(15):1922-33.
Asuthkar S, Gogineni VR, Rao JS, Velpula KK. Nuclear Translocation of Hand-1 Acts as a Molecular Switch to Regulate Vascular Radiosensitivity in Medulloblastoma Tumors: The Protein uPAR is a Cytoplasmic Sequestration Factor for Hand-1. Mol Cancer Ther. 2014.May; 13(5):1309-22.
Asuthkar S, Stepanova V, Lebedeva T, Holterman AL, Estes N, Cines DB, Rao JS, Gondi CS. Multifunctional roles of Urokinase Plasminogen Activator (uPA) in Cancer Stemness and in Chemo-resistance of Pancreatic Cancer. Mol Biol Cell. 2013. Sep; 24(17):2620-32.
Velpula KK, Bhasin A, Asuthkar S, Tsung, A.J. 2013. Combined targeting of PDK1 and EGFR triggers regression of glioblastoma by reversing the Warburg effect. Cancer Res. Dec 15; 73(24):7277-89.
Asuthkar S, Gondi, CS, Nalla, AK. Velpula, KK, Gorantla, B, Rao, JS. Irradiation-induced uPAR promotes stemness via Wnt/β-catenin signaling in medulloblastoma cells. J Biol Chem. 2012, Jun 8; 287 (24):20576-89.
Asuthkar S, Rao, J.S. and Gondi, C.S. Drugs in preclinical and early-stage clinical development for pancreatic cancer. Expert Opin Investig Drugs. 2012, Feb; 21(2):143-52.
Asuthkar S, Nalla, A.K., Gondi, C.S., Dinh, D.H., and Rao, J.S. Gadd45a sensitizes medulloblastoma cells to irradiation and suppresses MMP-9 mediated EMT Meena Gujrati, Sanjeeva Mohanam, and Jasti S. Rao. Neuro-Oncology, 2011, October 13 (10):1059-1073.
Education
2008: Doctor of Philosophy, University of Hyderabad, Hyderabad, India
2001: M.S. in Biochemistry, Osmania University, Hyderabad, India