Veeravalli Receives $300,000 Grant Award from American Heart Association to Support Stroke Research in Peoria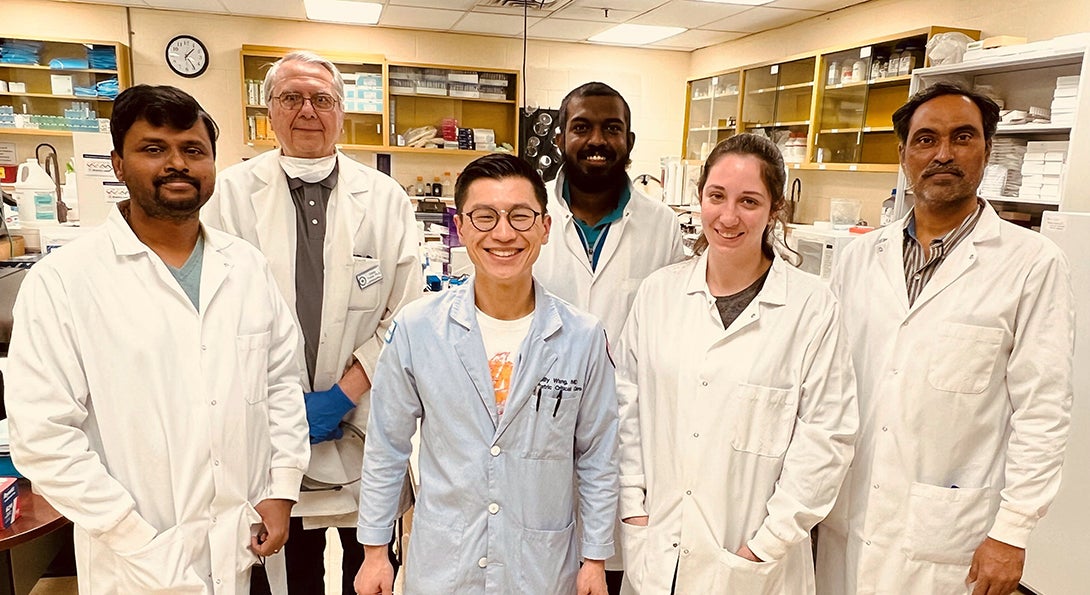 Krishna Kumar Veeravalli, PhD, associate professor in the Department of Cancer Biology and Pharmacology at the University of Illinois College of Medicine Peoria, is recipient of a Transformational Project Grant Award from the American Heart Association for his project entitled "Development of scFv antibodies against MMP-12 for stroke treatment." The grant is a three-year award in the amount of $100,000 per year for a total award amount of up to $300,000.
Stroke is one of the most common reasons leading to long-term disability or death. In 1996, the use of tissue-type plasminogen activator (tPA) was approved as acceptable treatment for ischemic strokes. To be eligible for tPA treatment, patients must reach the hospital within 4.5 hours after the start of stroke warnings. Treatment with tPA opens up the blocked blood vessels and causes reperfusion. However, it doesn't fix the brain damage that happened during the blood vessel block or that will happen after the opening of the blood vessel. Sadly, no treatments exist to reduce brain damage and accelerate recovery after a stroke.
Dr. Veeravalli and his team at the University of Illinois College of Medicine Peoria discovered that the amount of MMP-12 in the brain goes up following an ischemic stroke. Dr. Veeravalli's R01 grant from the National Institute of Neurological Disorders and Stroke of the National Institutes of Health (NIH) enabled his team to demonstrate that reducing MMP-12 lessened brain damage and improved functional recovery. The American Heart Association-funded project supports the advancement of Dr. Veeravalli's research from the lab to the clinical setting. In collaboration with Adinarayana Kunamneni, PhD, assistant professor at the Mayo Clinic, Dr. Veeravalli's lab will make anti-MMP-12 single-chain variable fragment antibodies and test how well they work. They think that lowering the amount of MMP-12 in the brain with these antibodies will reduce brain damage and help people get better faster.
The research will also focus on identifying the best antibody as well as the timing and duration of treatment as well as if the treatment reduces brain damage and speeds up recovery following a stroke. Outcomes from this research will indicate if the antibody treatment is sound for human studies in a clinical environment. The co-investigators and collaborators of this AHA-funded research include: Jeffrey D. Klopfenstein, MD, associate professor of clinical neurosurgery; Billy C. Wang, MD, assistant professor in the department of pediatrics; and Sourabh Lahoti, MD, clinical assistant professor in the department of neurology.
The American Heart Association is the largest non-profit, non-governmental funder of cardiovascular and cerebrovascular research in the U.S. AHA Transformational Project Awards are awarded to support highly innovative, high-impact projects that build on work in progress that could ultimately lead to critical discoveries or major advancements that will accelerate the field of cardiovascular and/or cerebrovascular research.
Modified on July 21, 2023