College of Medicine Presents 2023 Community Health Awards
2023 Community Health Award individual winner: Deric Kimler Heading link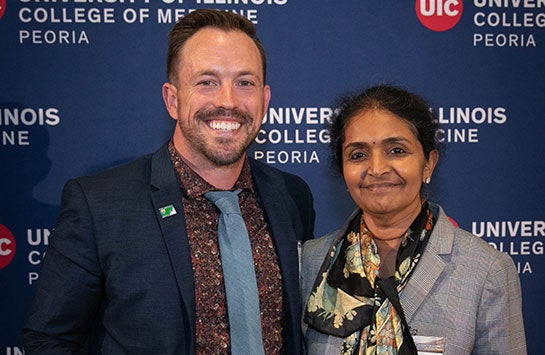 The University of Illinois College of Medicine Peoria presented its 2023 Community Health Awards during its annual Celebration of Excellence faculty recognition event on October 19. The awards started in 1995 to honor individuals and organizations who promote community health in central Illinois. Annually, UICOMP presents two awards – one to an individual and another one to a group or organization.
The 2023 Community Health Award individual winner is Deric Kimler, executive director of Central Illinois Friends, an organization that helps people living with HIV. Since its inception, CI Friends has adapted and grown to be a source of support, resources, advocacy, and community for people living with and affected by HIV in its 16-county region in central Illinois. Under the direction and leadership of Deric Kimler, Friends has evolved into a public health organization offering free services and comprehensive support linking individuals to proper care and providing HIV, Hepatitis C, and STI testing anywhere in central Illinois. Deric Kimler and his team at Central Illinois Friends have partnered with UICOMP in expanding the knowledge and experiences for medical students and residents surrounding social determinants of health.
2023 Community Health Award group winner: Easterseals Central Illinois Heading link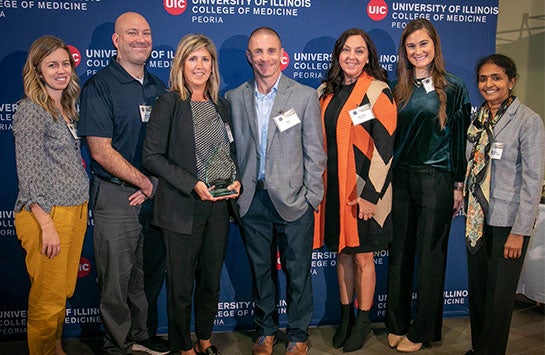 The 2023 Community Health Award group winner is Easterseals Central Illinois which has more than a century of service to children with disabilities and their families. Their broad–based community support includes not only children with disabilities but also those with developmental delays or other special needs. The selection committee cited The Autism Collective as an example of identifying and addressing critical needs and creatively finding a solution. Easterseals breadth of support extends well beyond clinical services and care as evidenced by the organization's Timber Pointe Outdoor Center which provides exclusive and specialized camping experiences for a diverse population with opportunities for both children and adults with disabilities.
Modified on November 01, 2023