54 Peoria Medical Students Celebrate "Match Day"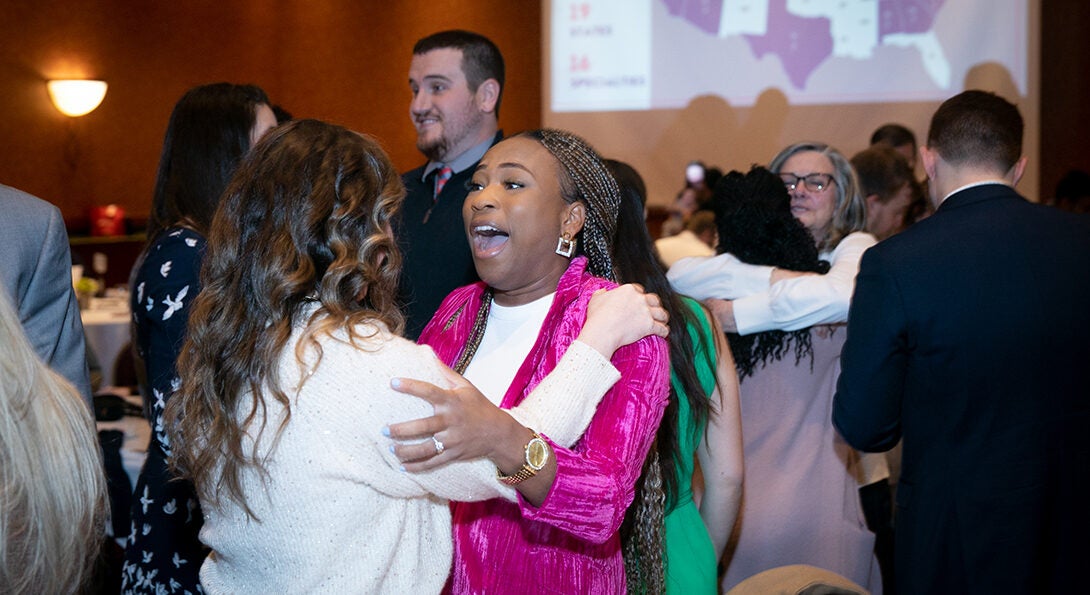 At 11 am today, 54 Peoria medical students opened an envelope and learned where they will spend the next few years of their training. The University of Illinois College of Medicine Peoria held its Match Day event at the Embassy Suites in East Peoria. Following the class's May graduation from medical school, these students will begin their residency training in their specialty of choice. Residency training programs are three to seven years, depending on the specialty.
UICOMP students matched into 16 different specialties in 19 different states. Of the 54 students, 18 matched into programs in the state of Illinois with 10 students matching into Peoria residency programs. The most popular specialties for this year's Peoria students were: Emergency Medicine (7), General Surgery and Surgical Specialties (10), Diagnostic and Interventional Radiology (7), Internal Medicine (6), and Obstetrics and Gynecology (5).
On Match Day, fourth-year medical students nationwide learn where they will spend the next years training in residency programs as they continue their paths into medicine. Competition is tight as more than 42,000 applicants interviewed for 40,000 positions in the 2023 match, according to data from the National Resident Matching Program (NRMP), the organization that administers the match.
The residency programs at UICOMP filled its 93 openings with fourth-year medical students from throughout the nation as part of the same match process. In Peoria, UICOMP's Graduate Medical Education (GME) office administers residency programs in affiliation with OSF Saint Francis Health Center and UnityPoint Health Methodist. UICOMP offers 12 residency programs — Family Medicine, Psychiatry, Emergency Medicine, General Surgery, Internal Medicine, Medicine-Pediatrics, Neurological Surgery, Neurology, Obstetrics-Gynecology, Pediatrics, Radiology-Diagnostic, Interventional Radiology – Integrated and Transitional Year.
The University of Illinois College of Medicine Peoria (UICOMP) educates 265 medical students and more than 300 physician residents and fellows annually. Additionally, it provides clinical care to more than 45,000 patients annually and conducts basic science, clinical and outcomes research. The College of Medicine is home to the Cancer Research Center, Center for Wellbeing, and is a collaborator in Jump Simulation.
Modified on June 13, 2023