COVID-19 Puts a New Spin on Match Day 2020 at UICOMP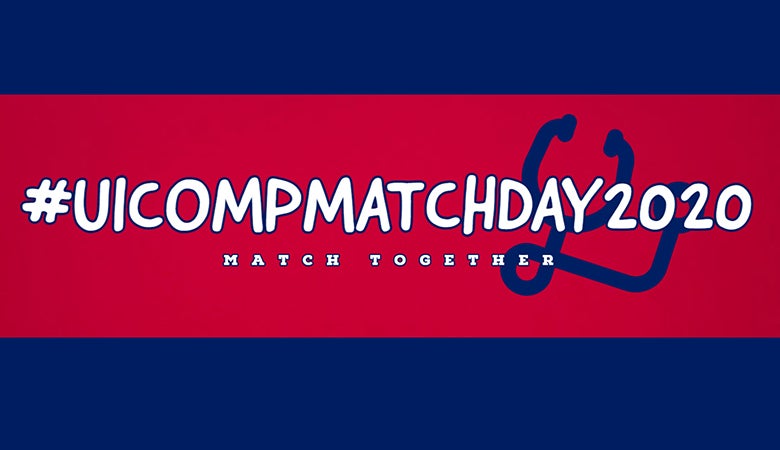 Instead of the traditional Match Day celebration and the envelope opening as a class, the COVID-19 pandemic prompted the University of Illinois College of Medicine to send match information by email to the medical students in its Class of 2020.
Match Day is the nationwide unveiling, simultaneously, by thousands of fourth year medical students of their assigned residency program. The "match" information tells them where they will spend the next three to seven years of their residency training. Instead of gathering as a class with family and friends and opening their envelopes together, the students individually opened an email at 11 am. This year's social gathering was cancelled in compliance with social distancing recommendations by the Centers for Disease Control and Prevention in light of the COVID-19 crisis.
This will be a memorable year that these future physicians will never forget," says Meenakshy Aiyer, MD, interim regional dean of UICOMP. Her message to the students via video conferencing this morning was, "As we look into the future, the healthcare system is going to look to you as you move forward and begin your residencies as physicians. You are entering interesting times, and no matter the place where you are going, you will make phenomenal physicians, and these experiences will make you all better physicians than who we are today."
Faculty and friends were invited to share well wishes via social media – Facebook, Instagram and Twitter – using #uicompmatchday2020 and #uicomp.
This year 56 UICOMP students matched to 18 different specialties in 27 states. Of those, 26 are headed into primary care, and 12 students will remain in Illinois with seven matching to residency programs in Peoria. The top three specialties medical students chose to pursue this year were Internal Medicine (13), Surgery (11), and Family Medicine (6).
In Peoria, 80 residency positions were filled.
IN THE NEWS: A somber Match Day for graduating physicians (pjstar.com, March 23, 2020)
Modified on August 02, 2023