Pathways: UICOMP Alum Fights Pandemic in Italy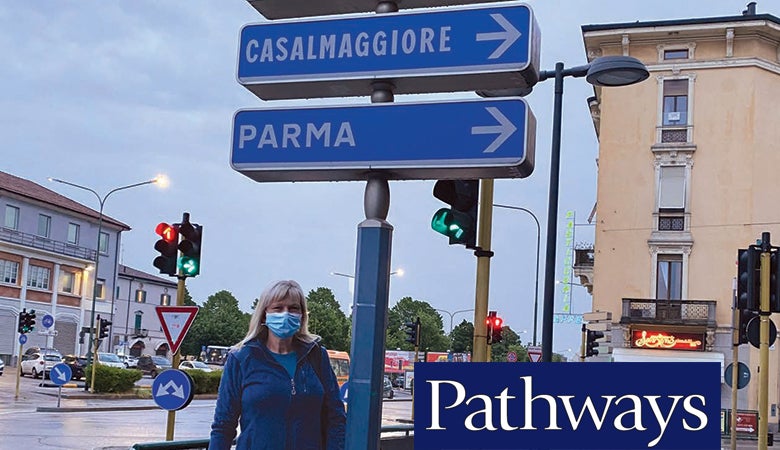 In March 2020, central Illinois physicians and healthcare institutions were ramping up preparations in anticipation of COVID-19, but Barbara Zimmerman, MD, boarded a plane and headed to a COVID-19 hotspot – Cremona, Italy.
Zimmerman (UICOMP '85) responded as a member of Samaritan's Purse Disaster Assistance Response Team (DART). In Italy, she worked out of a field hospital in military-style tents with four wards and one set-up as an ICU. This field hospital was designated as a Respiratory Care Unit with 68 beds for COVID patients. There, Zimmerman served as a women's ward doctor. She also provided airway and minor surgical coverage for the cardiologist covering the ICU. When she arrived in March, 65 patients were on ventilators throughout the entire hospital, including the ER and OR, and the nurse-to-vent ratio was 1:8. "There were nurses who were caring for patients on two different floors of the hospital. They were stretched that thin," she says.
"I've never experienced anything like this in 31 years of practice in an emergency department," Zimmerman says. "Our shifts were 12 hours with most of that spent in PPE because every patient we cared for was COVID-positive. We had PPE and did not experience the shortages reported by some stateside hospitals. The PPE that we are using is a scaled-down version of what was used by Samaritan's Purse in its response to Ebola."
"We follow an extensive donning and doffing process," she says and references the caps, masks, goggles and helmet shields in addition to rubber boots and multiple layers of gloves. "We have an 18-step doffing process that involves multiple steps and washing with a dilute chlorine solution between each step."
Besides the PPE, Zimmerman says the hardest part of serving in Italy was the language barrier. "We were so blessed to have a large number of Italian medical students, whose studies have been put on hold, acting as interpreters for us," she says. "And despite the language barrier, our patients all said they felt the love of God from our staff. That is a universal language."
Unlike accommodations at other international relief sites, the Samaritan's Purse staff stayed in a lovely hotel and received three hot meals a day in Cremona. "This was all donated by a local man at no expense to us," she says. "The Italians were so grateful and generous. Massive quantities of foods and sweets poured in. We were even made honorary citizens of Cremona."
When the critical health response slowed in Italy, Zimmerman helped to take down the tent hospital. "I carried loads of equipment and supplies, scrubbed tents, sprayed chlorine on anything salvageable, did inventory, and disassembled things," she says.
"The key to successful disaster relief is flexibility in how you deliver medical care and flexibility in what role you play on any given day." In early May, she returned to Peoria to quarantine for 14 days.
She chose to join Samaritan's Purse, a faith-based international relief organization, in February 2019 following her 31-year career in emergency medicine at both Elkhart General Hospital and Goshen General Hospital in Indiana. Her retirement also led her to return to Peoria to be near family. The deployment to Italy is her second stint with Samaritan's Purse. The first was serving in Freeport, Grand Bahamas, in response to Hurricane Dorian in fall 2019.
This article is part of the Spring 2020 edition of Pathways. Read the full issue.
Modified on February 08, 2023