Pathways: Long COVID Research Enrolls 100+ Participants in Peoria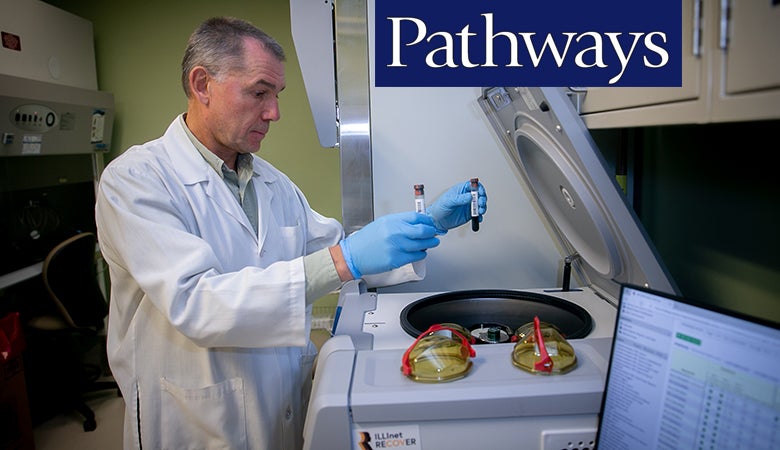 This fall UICOMP researchers enrolled their 100th participant in the "Researching COVID to Enhance Recovery" (RECOVER) initiative by the National Institutes of Health (NIH). UICOMP is collaborating to study causes, prevention and treatment strategies for long COVID in central Illinois. The work is part of the ILLInet state-wide COVID-19 collaboration led by University of Illinois Chicago (UIC) researchers that is projected to receive $22 million from NIH over four years to study the cause of and discover treatments for long COVID.
UICOMP Director of Research Services, and an investigator on the study, Sarah Donohue, PhD, says, "We are continuing our enrollment into the winter and are still looking for people who have recently had COVID. In working with our clinical partners at OSF HealthCare and UnityPoint Health, we have seen participants in the clinical setting and some are coming back for their second study visits."
After completing a health survey, study participants get a brief physical exam and have lab tests every three to six months over a period of two years.
"This study brings with it the opportunity for Peoria to be represented in what will be the largest national cohort of participants in US history. For participants in this study, however, more relevant to them is the ability to get some basic medical testing at no cost. Our RN coordinators work tirelessly to go over lab results with participants and to follow up when needed. This level of care is valued by our participants," Donohue says.
Being a part of the study may also give Peoria the potential to be considered for clinical trials related to long COVID. Monica Hendrickson, public health administrator with Peoria City/County Health Department, says the RECOVER grant allows the Peoria community to be part of a larger conversation regarding the impact of COVID-19.
"It also allows us to begin planning for the future regarding potential consequences COVID will have on the long-term health of our community," she says. "By understanding how COVID can reduce the quality of health as a community, it allows for us to start having conversations about healthcare and supportive needs our residents may require in the future."
Community partners, including Peoria Friendship House, Central Illinois Friends, and Tri-County Urban League, have been key in sharing information on the study, particularly among groups who are often underrepresented. Donohue says, "They have been working with us to act as trusted messengers of this study and to help us increase the representation of populations that are often underrepresented in biomedical research."
Hendrickson is hopeful this collaborative research can open the door to future opportunities. "NIH grants are not common, and to have a community of our size demonstrate our ability to coordinate and collaborate on this scale is impressive," she says.
Modified on July 21, 2023