College of Medicine Presents 2021 Community Health Awards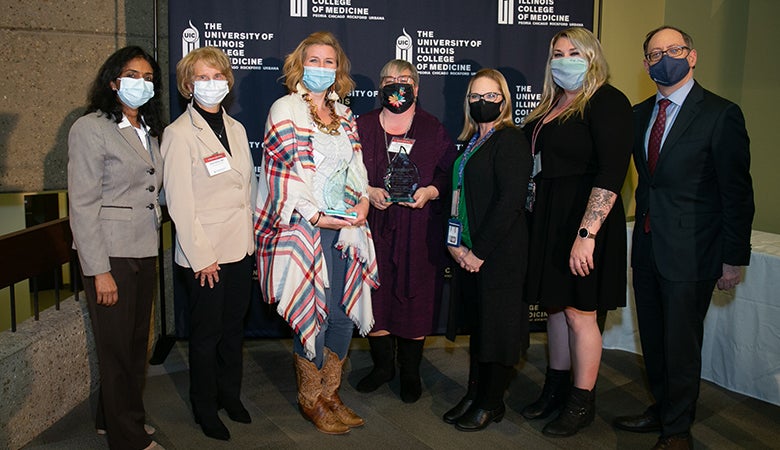 The University of Illinois College of Medicine Peoria presented its 2021Community Health Awards during its annual Celebration of Excellence faculty recognition event November 4. The awards started in 1995 to honor individuals and organizations who promote community health in central Illinois. Annually, UICOMP presents two awards – one to an individual and another one to a group or organization.
The 2021 Community Health Award individual winner is Mary Stapel, MD, clinical assistant professor in the Department of Pediatrics at UICOMP. Dr. Stapel has been an advocate for health equity and has served the underserved, especially during the COVID-19 pandemic. She provides care for the underserved through the local street medicine program as well as through the OSF Care-A-Van and shelter support. She was honored for her roles as an exemplary clinician, leader and educator who collectively promotes and improves the health of our community.
The 2021 Community Health Award group winner is Phoenix Community Development Services Homeless Outreach Program that is dedicated to helping those without homes find safe, affordable housing needed to improve health and wellbeing. Phoenix CDS operates the only homeless outreach program in the area focused on helping homeless families and individuals secure housing and eliminate barriers to homelessness through support services. Because of their service and dedication, over 80 percent of the unsheltered individuals served by the program have been able to secure housing to end their homelessness. In 2020 alone, the program placed 242 homeless persons into housing with 97 percent able to maintain their housing and not return to homelessness. The Community Health Awards Committee, in particular, noted the efforts of Phoenix CDS Homeless Outreach Program's efforts to fill devastating gaps due to the pandemic, such as "HOWIE," the Hygiene on Wheels mobile hygiene vehicle which offers restrooms with shower, toilet and laundry area.
Modified on May 15, 2023